There are often occasions when we need to send and receive fax in our life. You don't have to get a fax machine to send and receive fax. In fact, TalkU wifi texting app will help.
In last passage, we discussed how to send fax on TalkU 
. This article will give a detailed guide on receiving fax with TalkU.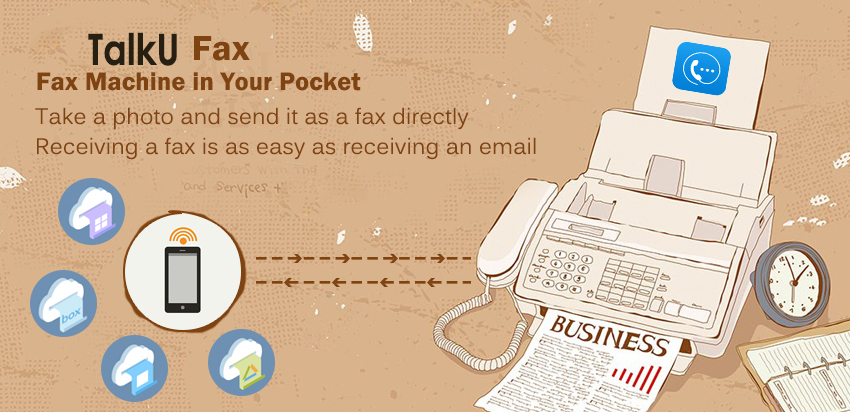 Receiving a fax is as simple as receiving an email
With TalkU wifi texting app, you can receive faxes on your phone or tablet at any time. Your TalkU phone number is also your fax number. Receiving a fax is as simple as receiving an email. When you receive a fax, TalkU will send you an alert and you can view the fax in TalkU's Messages center, which is easy to use and manage and is convenient for searching and saving documents.
Any device installed with TalkU becomes your dedicated "fax machine" – tuck it in your pocket and carry it everywhere. Even if you leave the office you can send faxes anywhere, anytime. You never need to worry about work getting in the way of your leisure time anymore.
TalkU Fax – Safe, reliable and protects fax privacy
Since traditional fax machines are expensive and require the installation of a fax line, an office will usually only have one fax machine to be used by many people, which is not convenient when you have to send or receive confidential documents.
TalkU wifi calling app helps you realize the dream of a fax machine in your hand, greatly protecting the privacy of your faxes. TalkU uses high-end encryption technology for fax transfer and storage.
What else can you do with TalkU?
TalkU, as one of the best free calling and texting apps, allows you to make unlimited free calls to any landlines or mobiles in over 200 countries. Calls among 30 million TalkU users are totally free. Calls to non-TalkU users save about 90% compared to regular phone calls. Other features include conference calls, group chatting, instant messaging.